PR

【Caution】
You need to give us enough information to understand your product by email.
We do the review or sometime interview in order to judge that the article is suitable for the media. Also, you can't specify the timing of publication for the article.
There are some variety of industrial papers issued as below, so you can't specify the paper.
Hello, everyone.
I am Ishizeki from Naturalink Co., Ltd.
We sell health food, cosmetic ingredients and provide OEM supplement and cosmetic products made in Japan for foreign and domestic companies. Also, we support export and promotion depending on customer' needs.
We have been engaged in health industry for more than 12 years, developing and improving many kinds of products in addition to product promotion.
After independence in 2010, we support the product development behind the scene for our clients, while we have piled up some work on reporting and research every countries in Asia to spread health food and cosmetic made in Japan. Then, those work brought up some articles in the media as the photos below.
Artcle photos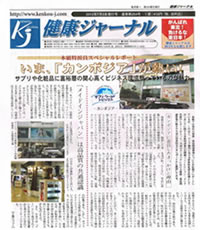 Cambodia reports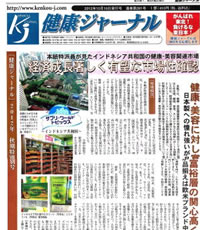 Indonesia reports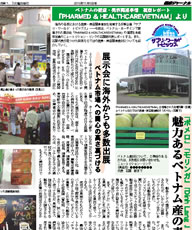 Vietnam reports
Apart from that, there is a barrier for anyone who is engaged in this industry will face.
That is rule like pharmaceutical law.
At last the government has approved the display of functionality for health food's label but we are not sure about how much impact on the industry at the moment and haven't been able to figure out how much we could write or display the functionality yet when comapared to nutrition functional foods system which already exists and admitted by Japan's government.
In other word, we still have the agenda to take account of advertisement or copy writing which doesn't conflict with the related law including pharmaceutical law.
Especially, the number of advertisement on the internet has been increasing as time goes by, while the fact is that regulations are getting strict years by year.
The government calls out the public for giving them some information about it on the internet.
By the way, do you know the difference between advertisement and public relation?
We can say it in many kinds of way or have some explanation but simply it is regarded as below.
Advertisement:
It should be made of writing and design based on the responsibility and intention of advertiser, and it could be published ,specifying the space and the date of issue.
PR(Public reltation):
Creating an article in the third party eyes, the paper posts it by its own decision(timing, space in the paper)
More simply speaking, advertisement is done by an advertiser who pays for the space in the paper
in order to appeal for their product or servise, while PR is carried out by media's independence, asking a company to introduce their product or business to pick up.
So, PR can be done for free and shows the advantage of cost-performance because it is in the third party eyes.
Moreover, there is another merit hidden.
When it comes to advertisement, pharmaceutical law is always inevitable, while an article is different because it isn't picked up in the papar by the third party with the intention of sales just like a word of mouth.
Therefore, you could have the advantage of objectivity and range in terms of creative writing.
Also, secondary use of article taken up in the paper is possible, so you can reuse the article on your company web site, flyer or whatever. There are lots of companies that have already done this but it helps you to give some feeling of trust or safety in any way.(The visibility of paper might be less than the other media, though)
If your company deals with health foods(supplement), cosmetic, beauty equipment, health fancy goods or you are engaged in health and beauty industry, we will be able to help you to explore the market in Japan or find a business partner here.
The intended media for an article is " Health Journal (Health and beauty total magagine)", "Science Journal( Medical evidence or news magazine)" " Beauty and Esthetic Journal" and " Food jounal".
Each magazine(paper) has the feature, so we will pick it up according to your business category.
Posted articles on each media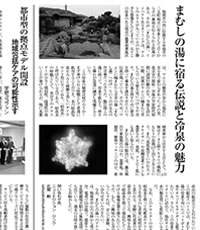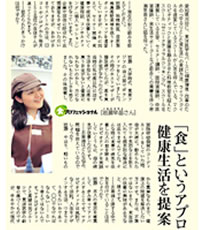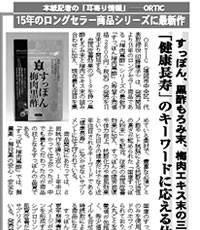 If you have any questions or inquiry about this service, please fill in the form below with your message and contact us now.