OEM in Japan
Naturalink can deal with a variety of natural and organic materials with no pesticide or chemical fertilizers we have been searching for not only in Japan but also all over the world.
In addition to these natural ingredients, we develop and manufacture original custom supplements or cosmetic products using materials with high functionality and safety clarified by advanced research.
NATURALINK's OEM Product Development 3 aspects
Part 1. Salable core concept and sales copy making

Needless to say, good product, excellent product are not always salable products. What could we do to make a sellable product? The most important first step for product development is research. How many similar products in the market are there?
How many people would like to have? What is it made for ? We create an image of target customers in detail and think a delivered message. There is no worrying at all even if you have no background, experience and knowledge of product development. We are willing to provide necessary information about the market and materials and advice on making core concept for you.

Part 2. One-stop OEM from a product design to making of sales promotional goods.

When we ask a quotation to contracted manufactures, it will take you much work and time to select one from more than a hundred of factories and confirm it.
In addition, you might have difficulties in communication in Japanese as well as the know-how of product development in Japan.
On behalf of contracted manufactures in Japan, Naturalink listens carefully to a variety of request and any questions you may have, and we provide you with the best plan from product design to trial product, mass production and promotional goods to make it easy for beginners to understand.

Part 3. Support wholesale with a small lot for manufacturing,eliminating risk as much as possible.

It is changeable depending on the product form though, we make food supplements from 200 bottles at a minimum lot. When you want to conduct a test marketing including testimonials before mass production, you can get more or less from 20 to 30 bottles as trial products( It depends on the contents per bottle).
As just described, you can examine the possibility of sales using trial products and start your own business, reducing the stock risk.
OEM Product Development Flow
Please make an inquiry from this mail form.
In case you are in a hurry, please call us on +81-92-738-5938.
Please consult us on any request, idea, question, and anxiety. Skype is available for those who have the difficulty to have face-to-face meeting.
Depending on the market,concept, and budget for the customer, we select the material and formulate the product, and also advise you on the package design as well as label display according to sales channel.
As to the product development planning based on your request and opinions as well as our ideas, best quotation is offered as the soonest possible time.
Once you agree with the rough quotation, we make a trial production at the smallest lot. Using a trial product, we can examine and estimate the quality and coordinate the problem or improved points.
※ Trial production cost will be billed at cost. The lead time will be around 3, 4 weeks.
Once you are satisfied with the trial product, we start the manufacturing after confirming purchase order and payment.
The lead time for manufacturing is basically between 1 to 2 months but it is changeable according to the product form ,quantity and so on.
At the same time, we move on to the production of label and package and also check the data. Completed products are inspected each lot based on a ruled product quality standard(mostly GMP).
We could help you to make a leaflet, brochure and LP for a new product, providing some product information including the key material, feature as well as scientific background according to your request.
We deliver the product to the specified address based on FOB.
Minimum lot and features of the major dosage forms
Dosage forms
Feature,Aptitude
Minimum lot
Tablet


Put the powder in the mortar of the tableting machine, you can make it nailed punch.


Processing fee is cheap, it is dosage forms the most popular.I coated with titanium oxide, and the like shellac If cracking or chipping of the surface, blowing powder is a concern, the sugar coating if the smell and taste is a concern.
There and chewable tablets that are ready-to-eat chewing for children, also oral dissolving tablet that is eaten melted in the mouth like a lozenge.Using only the powder raw material, it is suitable if it can be designed in a relatively small amount of intake.

10,000 tablets ~


In the case of 90 tablets 300mg / grain ×, about 111 pieces
Hard capsules


Powder materials are filled up into hard capsules.


Since there is no heat load, heat-labile ingredients such as vitamin and lactobacillus are suitable for this form and it is good when we put more ingredients in one piece but are worried about the smell and taste. Capsule ingredients used often are derived from pig gelatin, pullulan and HPMC.

25,000 capsules ~


In the case of 120 tablets 250mg / grain ×, about 200 pieces
Soft capsules


Emulsifying the oil and powder ingredient, the liquid is filled up as wrapping with gelatin sheet.


When you are requested about the stability and air tightness of contents, masking the smell and using oil ingredients starting with fish oil, this form is suitable for those.Also, it is absorbed in the body more slowly than hard capsules and systemic absorption is excellent because of liquid in the capsule
Capsule ingredients used often are derived from pig and fish.

40,000 capsules ~


In the case of 120 tablets 300mg / grain ×, about 333 pieces
Granules powder


It is easy-to-swallow granulated and fine powder product that works well in liquid.


It can also be used when dissolving green juice product with water as well as it is ready-to-eat.There is also granules product such as protein which is just packed in a bag as it remains powder.
It can be filled in an aluminum zip bag or three sides seal, so when you want to intake as much nutritional components as possible or intake much dose per day, it is recommended in many cases. You may need to adjust the taste by using sweetener or sugar since you can feel the flavor and ease of consumption significantly.
Also, dextrin and other component might be compounded to maintain the fluidity during filling.

30kg ~


Depending on the material to be mixed, but when being filled into sticks containing 3g, it would be about 8,000 to 9,000 follicles.(It varies depending on the loss rate)
Soft drink
(Drinks)
*50ml ~ 720ml / bottle


It is a form used by choice if you want to easily ingest more components because of good absorbability.


As there is a product containing collagen 5,000mg per 50ml, you may see the tendency to compete how much of components it has, but nowadays the fact is that most products consist of complex or multiple ingredients.Also,the stability is important aspect to prevent the grounds from the drink.
In addition, a large bottle such as 500 to 720ml are often used for enzyme drink and vinegar drink but there are a wide selection of size up to 50ml ~ 720ml in capacity.
50ml,100ml bottle

3,000 bot.~


300ml bottle


1,500 bot.~


720ml bottle


1,000 bot.~

Stick jelly /
Mini drink
*5g ~ 30g / wrapped


It it easy to carry compared to beverages. Feeling satiety more than other supplements, so it is a form close to general foods.


It is possible to finish delicious taste, while the image of food is strong and shelf life is also relatively short, usually one year. So it is suitable for front-end products that is easy to sell.
In addition, temporal stability is not so good that we need to select the formulated components and the amount of water.

200kg ~


In the case of 1 sachet 30g, it gets about 6600 sachets. If 1 box contains 30 sachets, it becomes about 222 boxes.(It varies depending on the loss rate)
Paste / Oil


It is a form used when we fill in blend oil or concentrated extracts by stick sachets.


When you want to fill blend oils and concentrated extracts just as the liquid is, or when you want to make ready-to-eat paste products as plant fermented extract, this form is often used.
Depending on the stickness, the possibility that can be filled is changeable. Also, there are few health food factories which can do this, so it is the product form more closed to general foods.

200kg ~


In the case of 1 sachet 5ml, the economical lot is about 30,200 sachets only as a guide. It is about 500 boxes with 60 sachets per box.
Tea / Tea bags


It is the form filled with dry-milled rough tea leaves in tea bags or packed in an aluminum bag zip as dry-milled leaves are.


There are lots of tea leaves brought from abroad such as candle bush, Moringa and rooibos, but in many cases we proceed the commercialization through professional domestic companies specializing in sterilization processing because of the problem about bacteria.
Easy to reflect the favour such as origin,processing and type. The preference in this product category is high.
cone type of tea bag
(2 ~ 10g / bag)


1,000 bags ~


aluminum bag three sided seal
(5 ~ 10g / bag)


1,000 bags ~

Retort processed foods
(Porridge, etc.)


It is a preserved food in general but also form closed to emergency food.


The case of commercialization by a combination of porridge or curry retort with functional materials has been increasing. Using this form, there is room to develop for a new product,for example, nutritional support product for the disaster in the future.
Negotiable. Please contact us directly.
The above is just as a guide, so the production lot will vary by the product content.
Please inquire from this for the details.
Type of package and packaging
| | | |
| --- | --- | --- |
| Plastic bottle container | Glass bottle container | Stick sachet |
| | | |
| Three sides seal packaging | Alumi zip bag(Stand / Flat type) | PTP sheet |
| | | |
Manufacturing plant
As to the production of health foods(food supplements), we severely select the best contracted manufacturer in Japan for you based on your requests, product form and the contents. For example, it is a GMP certified factory, an organic JAS certified factory, a HACCP factory which has many experiences and achievement in manufacturing health foods in addition to a specialized factory proven by special processing method and technique.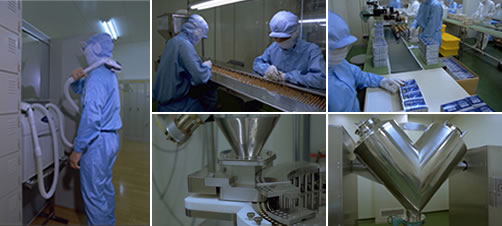 For consultation of OEM product development, please feel free to contact us from the following below.